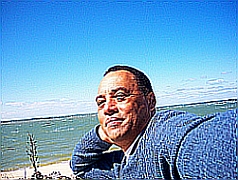 I've been on a Karmic Journey--a passageway. Crazy as it may seem; an Age of Aquarius has been my existence for the last few months. Career Change, self-doubting, periods of impatience, and an overall uneasiness would describe my life to a tee.
Due to unforeseen family circumstances, I found myself trying to
find my way back home
. Clearing the path was this strong-strong nudging to forget the Cost$$ and just head east.
Returning back, I was able to revisit priceless visual treasures that I had long forgotten. The above photo captures the sights and scents of the Chesapeake Bay in the State of Virginia.
The visual treasures were the only priceless moment(s) I enjoyed. There was my visit to my 97 year old Aunt Mable. I was gushing with love after enjoying some of
Aunt Mable's Tomato Puddin
.
Reconnecting to Source...home, I learned many things. I learned how to expect nothing but to receive everything. I learned that it's OK for me to simply, "Not Know." Lastly, I found love again--in the simplest of places. The Chesapeake Bay's Atlantic Ocean breeze. PRICELESS!
I've Connected to Source; what about you?